Let's face it, at one point or another, we all have to make a choice about getting a new bed. Whether we are moving into a new home or just changing the bed that has seen better days, getting a new bed is a task that many of us find daunting.
While not a bigger decision such as choosing the mattress size or type, however, one of the decisions you'd have to make is choosing between the type of bed base for your mattress.
With so many options available, it can be overwhelming to choose one that will suit your needs best. And that is why we are here to help. In this article, we will take a look at the key differences between panel beds and platform beds so that you can make an informed decision.
What are the Main Differences Between Panel & Platform Bed?
While there are some fundamental differences between the two, those differences are becoming increasingly blurred as time goes by. For example, panel beds used to have no headboards. But now, you can find panel beds with modernized headboards and footboards.
Here are some main differences between the two beds bases:
| Panel Beds | Platform Beds |
| --- | --- |
| Needs a mattress foundation | Requires no mattress foundation |
| Large headboard made of wood or other material | Minimalist headboard or footboard |
| It is typically made of slatted panels of wood board | May come with storage drawers |
| The bed is normally higher off the ground | The bed is lower to the ground |
What Is A Panel Bed?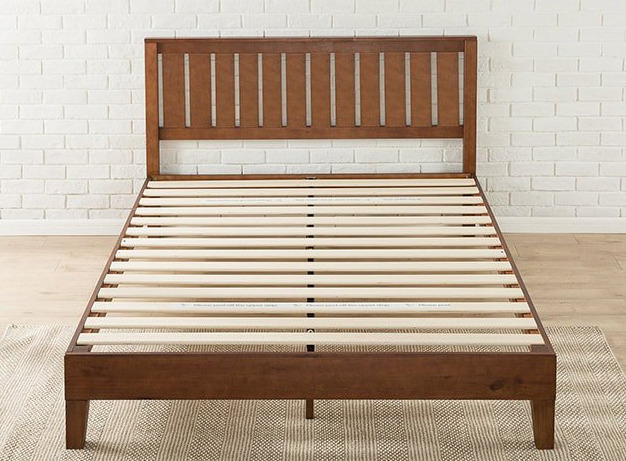 A panel bed or box spring has been around the longest and is made of wood slats or metal bars to support the mattress. Panel beds can usually be found to have side railings, headboards, footboard that matches the rest of the bed structure in color.
Additionally, panel beds offer the following benefits or advantages over platform beds.
Breathability – The wooden slats allow for more airflow than with a platform bed, helping to keep your mattress breathing.
Height – Since you typically need a mattress foundation, panel beds can be a little higher on the ground than platform beds.
Storage – Some panel beds come with drawers for additional storage. What Is A Platform Bed?
What Is a Platform Bed?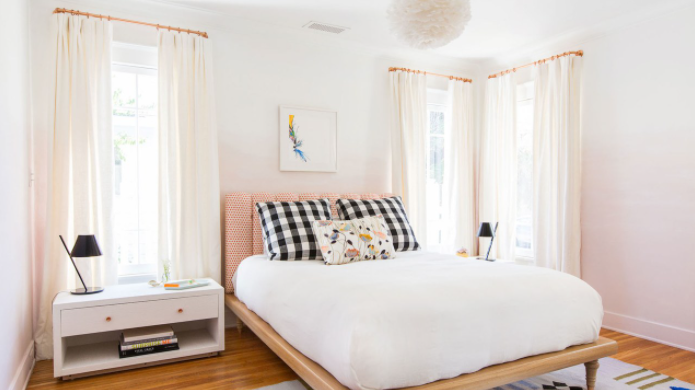 A platform bed is a relatively new type of bed base that has been increasing in popularity in recent years. It gets its name from the fact that it has a large, sturdy base that serves as the foundation for your mattress. Because there is no need for a separate mattress foundation, you can put your mattress right on top of the platform bed.
Most platform beds are made of solid and sturdy wood and come in a variety of finishes to match any decor. Additionally, platform beds typically have a minimalist headboard or footboard that is either attached to the bed frame or is a separate piece that can be added on.
Finally, platform beds have the following benefits or advantages over panel beds:
Durability – Platform beds are typically more durable than panel beds because of their sturdy construction.
No sagging – Unlike panel beds, which can sag if you don't use a mattress foundation, platform beds will not sag under the weight of your mattress.
Low profile – Platform beds are low to the ground, which makes getting in and out of bed easier.
Panel Bed vs Platform Bed—Which is Better for Me?
While both options have their cool features such as comfort, price range, durability, and many more, your preference may be determined by factors such as price, size, comfort, or design.
Price
While factors such as the design, size, and material quality play into the price, nevertheless, you can normally expect panel beds to be a little pricey compared to platform beds. Part because panel beds come with a few more pieces and usually require a mattress foundation.
Size
How wide or how high are all matters of personal preferences and also depend on your mattress size and ceiling height. Whether your mattress size is queen or king single, these bases come in a variety of sizes that can fit your mattress size at home. If you're unsure about what you need, consider reaching out to your nearest bed store for help.
Comfort
While each person's mattress comfort preference is different. Some people like the rock-hard feel of the platform mattress while others like the springy feeling of the traditional spring panel bed. Besides, there are good chances that you know your preference already. If you're currently unhappy with your current bed base, perhaps it may be time you try another type.
Design
From the color and material of the wood, to how many pieces are included in the set, panel beds and platform beds offer different design aesthetics for your bedroom. If you're the minimalist type and don't have issues with sturdy bases, then platform beds might be great for you. But if you're looking for a more classic and traditional look, panel beds would be the way to go.
Choosing Your Bed With Sunshine Coast Beds Galore
The bottom line is that there is no one-size-fits-all answer when it comes to deciding between a panel bed vs platform bed. It all depends on your personal preferences.
However, sometimes browsing through the bed base options on the internet may not be enough. You may to actually visit a bed shop to view and feel the difference. And that is why Sunshine Coast Beds Galore is here for you. We offer personalised shopping experience with exclusive viewings in our Sunshine Coast Bed store.